Ribble Valley 10k 2022
Dec 27, 2022
£20.00
58% event capacity filled
Entry Limit: 1500
Event Details:
Tuesday | December 27, 2022
12/27/22 10:00 am - 12/27/22 12:00 pm
ENTRIES CLOSED! There will be No entries on the day, and no further transfers or edits made to any entries. – Good luck!!
Ribble Valley 10k
Tuesday 27th December 2022
Fast TRAFFIC FREE, CHIP TIMED 10k sponsored by Forbes Solicitors incorporating the North of England 10k Championships.
CASH PRIZES – MEDALS FOR ALL
Course Record Time – Bonus Prize £500.00 cash
Marc Scott (2019) – 28.32 & Jessica Piasecki (2021) – 31.38
1st Male & Female –  £300.00 cash
2nd – 10th Male & Female – £150, £110, £75, £50, £30, £25, £20, £20, £20 cash
1st Team (3 to count) – £15 x 3
1st Vet team (3 to count) – £15 x 3
1st, 2nd & 3rd Junior Male & Females (u20) – £20,£15,£10
1st Vet (in all categories) Male & Female – £20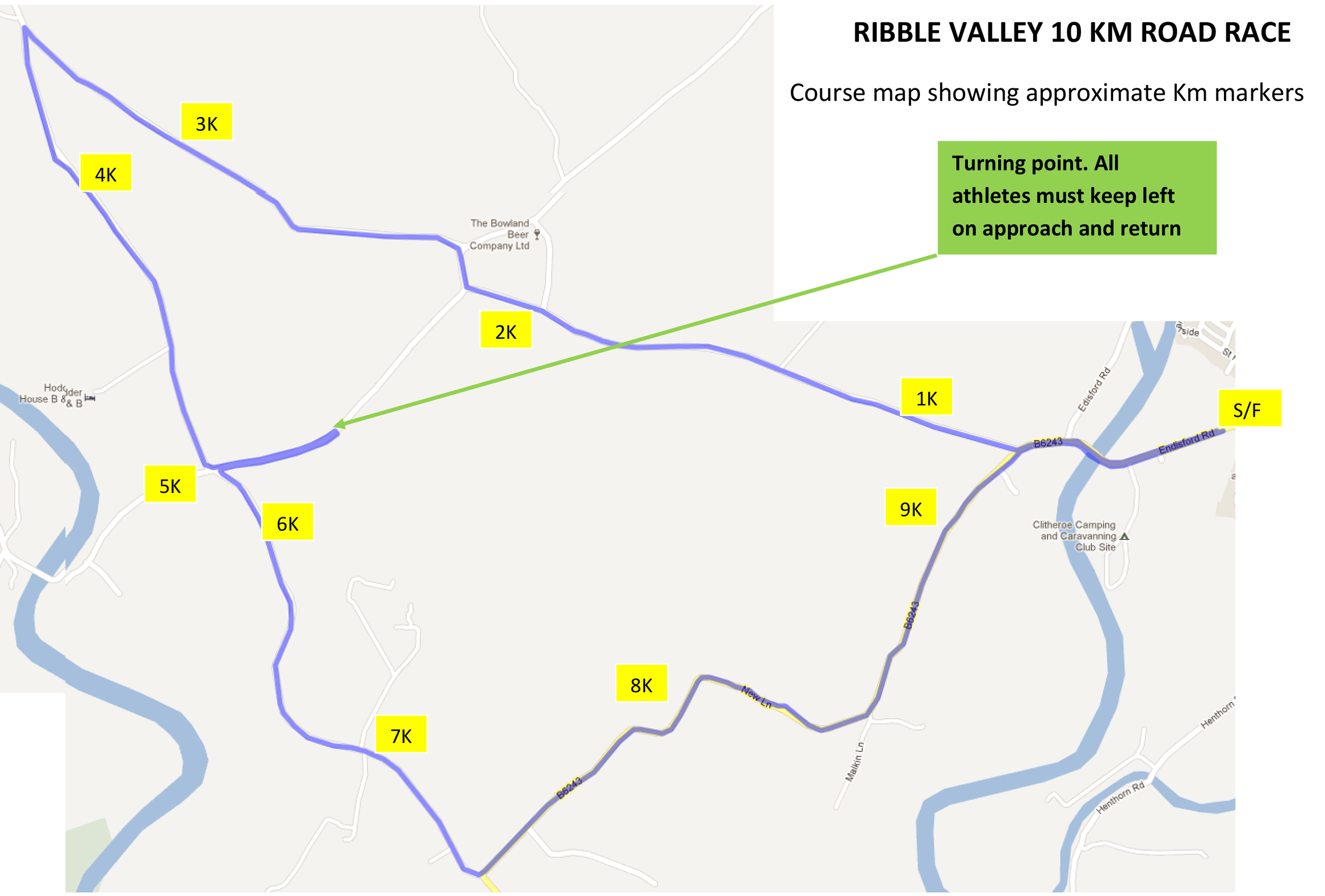 Address: Roefield Leisure Centre, Edisford Road, Clitheroe, BB7 3LA

The race will be traffic free and all roads will be closed at 9:15am, 45 minutes before the race is due to start at 10:00am. The roads within the course will be closed from 9:15am so please make sure you leave plenty of time to get parked up and get to Registration if you have to pick up your Number on the day. If you choose to park towards the Town Centre, be aware to give yourself plenty of time, as the Town Centre is approx. 1 mile away.

These are the Roads affected:
a. B6243 Bawdlands, Edisford Road and New Lane from Lancaster Drive through to B6243 Whalley Road, Great Mitton. This included the junctions of B6243 with Edisford Road (U22901) and Clitheroe Road (C573).
b. Clitheroe Road (C573) from its junction with B6243 Edisford Road through to Clitheroe Lane(C574), Bashall Eaves. This includes the junctions of Clitheroe Road with BASHALL Lane, Twitter Lane and Birdy Brow.
c. Clitheroe Lane (C574), Bashall Eaves to its junction with B6243 New Lane, Great Mitton. This includes its junction with Birdy Brow.

Car Parks

Car Parking will be at a) the school near the start of the race approx 3-400 metres away; b) on the public car park adjacent to Roefield Leisure Centre Centre which is Pay & Display; c) on the right hand side of Edisford Road approaching the Leisure Centre and d) on the Lane leading to the Caravan Park site opposite the Leisure Centre.

Marshals will direct all cars approaching the Race Registration area to the relevant car parking. All other car parking will be outside the confines of the Race Course and is located within the Town Centre
Please also note that no cars will be able to exit the main car parks (across from the Registration area at the Leisure Centre) until the last runner has finished.

Cycle racks are available at the leisure centre. Please ensure you do not lock your bike to anywhere other than the designated areas.